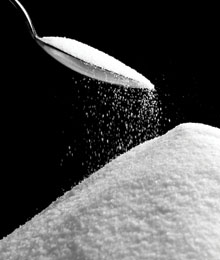 "Complete abstinence is easier than perfect moderation," said Saint Augustine. Now, over 1,600 years later and in a world filled with preservative-pumped food products, his words have only become more pertinent.
Aspartame's potential toxicity has been debated for over 40 years but this popular additive – dubbed 'sweet poison' by skeptics – can be found in sodas, puddings, yogurt and chewing gum, as well as in 6,000 other products worldwide. It is better known as Nutrasweet, the low-calorie alternative to sugar, and it is approved for use in over 90 countries.
"There has been no credible, scientific evidence that links aspartame to any health-related problems," says Susan Somerville, a registered dietician and program coordinator of Humber Read more
"It was a really stressful, stressful time. I couldn't sleep at night," says Caryn Solly, who was covered in itchy red bumps when bedbugs infested her apartment building in 2004. "I was sleeping with long-sleeved shirts tucked into my pants and those pants tucked into socks with the AC cranked super-high. I had to do lots of laundry and had several exterminator treatments to get rid of them." Despite short-term relief, the bloodsucking bugs crept back into her Brooklyn, New York complex three years later.
Stories like Solly's are being broadcasted across North America, including the GTA, a region that's seen a troubling hike in bedbug reports. On September 29, Toronto MPP Mike Colle held a summit at Queen's Park to address an issue that's been irking communities of every class. Read more