1 Show-Off
This seductive scent by Halle Berry fuses the sensual smells of red berries, cashmere woods and iris blossom. A scent that turns heads at any gathering, Reveal creates a bold yet mysterious waft as you walk into a room. www.halleberryfragrances.com
2 L'Occitane Soaps
These French artisanal soaps will envelop your skin with the soothing wonder of shea butter and the all-natural scents of rose, verbena, honeysuckle and lavender. L'OCCITANE recently celebrated the 20th anniversary of its shea butter range and a co-development programme where employees teach the women of Burkina Faso the art of soap making. Read more
They're not just pretty faces: A bevy of Tinseltown's most-loved celebrities are taking action against global warming. Whether it's driving a hybrid or going organic, these stars are doing their part to save the planet.
When it comes to Hollywood celebrities, it seems that each of them has a cause that they have lent their names to, but some may wonder if they have done so for nothing more than career advancement. But when it comes to eco living and going green, there are a crop of celebrities out there that are seriously committed to it and are putting their money, their faces, and their reputations where their mouths are. Read more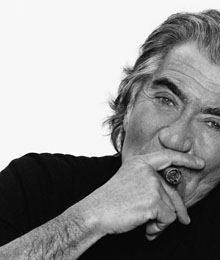 Famous for dressing celebrities such as Jennifer Lopez, Gwyneth Paltrow and Lenny Kravitz, Roberto Cavalli has teamed up with H&M so he can be famous for dressing women and men everywhere!
When you think of Roberto Cavalli you are reminded of his continuous efforts to incorporate animal print or metallic in almost every one of his pieces. Cavalli's limited collection for H&M, featured his favourite pieces throughout the years – and that means a whole lot of gold, zebra and leopard! The collection made its debut Nov. 8, 2007.
In his first collection for H&M, Cavalli created a stunning collection using only three colours: white, black and gold. Not unusual for Cavalli. Read more