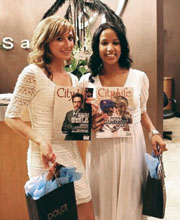 Marking 20 years of Safehaven's provision of exceptional residential and respite care to families whose children are unable to walk, talk, see or hear, valued supporter and owner of Salon V Vanessa Petriglia hosted Cutting for a Cause in celebration of the one-year anniversary of her successful York Region hair salon. Taking place on Aug. 26, 2010, Salon V offered discounted blow-dries; complimentary beverages and appetizers; entertainment, and a special free hair design and cut for those whom Safehaven has helped. Over $3,500 was raised, as well as an abundance of awareness for Safehaven. Read more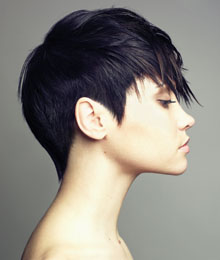 Wearing white from head to toe, the stylists at Fiorio Vaughan create a magnetic atmosphere that leaves clients coming back for more. Living up to the reputable name, every stylist is talented, creative, and loves what they do.
Lucky for us, Antonio Piro, associate owner of Fiorio Vaughan, met the love of his life when he came to Canada nine years ago. Although he left his home in Italy to be with his wife, Piro made sure he didn't leave his passion, zest for life, and breezy personality behind.
Piro enjoys exploring his creative side with short and edgy haircuts, but he assures clients that he only designs hairstyles that will suit their personality and lifestyle. "If I cut and style your hair and then you go home and you can't style it yourself, that means I failed," says Piro. Fiorio stylists always strive to combine creativity with Read more
Open late to accommodate all your last-minute needs, Salon Jewls Colour Club will lavish you with the royal treatment. Bringing a Yorkville vibe to Woodbridge for the last two years, owner Julia Costanzo is a seasoned professional, taking her talents to Toronto Fashion Week and wowing celebrities at the Toronto Film Festival. Specializing in makeovers, hair extensions and colour services, the personable staff at Salon Jewls Colour Club customizes your look to fit your lifestyle.
Salon Jewls Colour Club
905.850.6861
One of the City's Top Stylists — Recently relocated to a vibrant Woodbridge setting last year, Textures Hair Inc.'s Vince Brancatella and his team are excited to bring downtown cool and creativity in a relaxing salon experience. Offering the latest trends in hair care such as Altera's organic hemp seed, caviar and Moroccan oil and more, owner Brancatella and Textures' team members will have you looking your best. Talented stylists like Joe Commisso will create perfect, envious hair while teaching you how to keep your tresses in salon-style condition. Book your appointment today! TEXTURES HAIR INC., 8099 Weston Road, Unit #4, Woodbridge, ONtario  T: 905.264.0096