Welcome to the chic, sleek, all-glass showroom of Northwest Lexus, located in Brampton, Ont. Whether you're looking to invest in a gas-efficient, smooth-sailing sedan or an ultra-fast sport coupe convertible, the impeccable sales service at Northwest Lexus can assist and educate you in all areas of the vehicle and pricing. Just drop in and book your appointment to take a luxury vehicle for a spin, with Northwest Lexus's new special offer. www.northwest.lexus.ca
TOP LEFT: The futuristic ladies of Northwest Toronto strike a pose next to an outstanding vehicle of what's to come. TOP RIGHT: Guests and the employees of Northwest Lexus mingle about the posh dealership, ready to network amongst their car-friendly peers. ABOVE: The all-glass showroom of NorthWest Lexus, located at 2280 Queen St. E. in Brampton, Ont.
The mild mannered svelte A5 Coupe transforms into the menacing S5. Setting the Audi apart from the premium coupe segment is a distinctively delicious shape and high-style that puts the S5 on another level.
It's been a long time coming, but Audi's new A5 Coupe is a stunner – inside and out. Its graceful, muscular lines grab attention, whether it's parked or in motion.
Credit has to be given to Audi's stylists for coming up with a shape that is elegant yet powerful. While Audi's main competitors, BMW and Mercedes, have had the premium coupe market to themselves for quite a while, they now have to content with the newly minted S5. Read more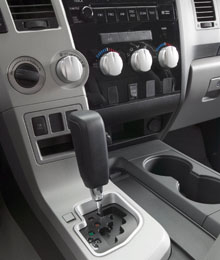 Look back and discover 2007's notable entries from a few auto manufacturers.
The big news from Toyota in early 2007 was the launch of its full-size Tundra pickup that finally made it a legitimate player in the half-ton segment. There was no mistaking it: the gargantuan exterior put the Tundra shoulder-to-shoulder with the established brands in the field, which include the Chevy Silverado, Ford F-150, Dodge Ram and Nissan Titan. Backing up the handsome and butch-like styling is considerable firepower under the hood. How does 381-horsepower from the high-tech 5.7-litre motor that easily shames most high-performance cars through the quarter mile sound? But most impressive is its 10,000-pound towing capability. Read more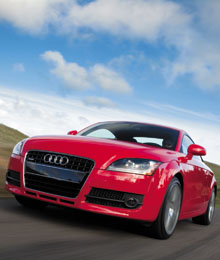 The new 2008 Audi TT has retained the styling essence of the original but moved up in size and refinement.
It's hard to believe that an all-new Audi TT is among us, as the freshness of the original model still lingers. Manufactured in Hungary, the new 2008 TT is distinguished by new familiar styling on a lightweight aluminum space frame construction, balanced handling and powerful power trains.
When Audi introduced the first generation TT in 1998, the swoopy chopped roof profile caused a major sensation in automotive design. Heads would do a double take wherever the TT was spotted. Its brilliant design has such classic lines that Audi wisely chose to offer continuity by evolving the lines to reflect a more modern look. Those with an eye for design will likely Read more