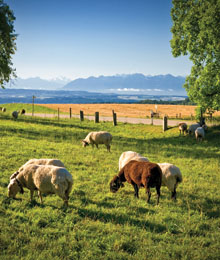 As the temperature rises and the flowers bloom, farms across the province prepare for a lush season of bountiful, chemical-free fruits and vegetables. Shopping at local organic farms that do not welcome pesticides, fertilizers or hormones is a great way to support the community, protect the planet, and improve your health.
Zephyr Organics
Located in Zephyr, Ont., this farm boasts over 80 acres of certified organic vegetables for you to enjoy. With generations of farming experience, Ted Eng and his family grow everything from asparagus to zucchini and share it with local residents and restaurants. Zephyr also offers a Farm Share program, where consumers pay in advance for a share of the garden. Pick up your share of organic produce each week for 20 weeks – Read more
How many people know exactly what they are getting when they purchase a product labelled "organic?" Here are some facts that will help you better understand the organic food industry.
The organic food industry is rapidly growing within Canada. According to Agriculture and Agri-Food Canada, there are more than 800 processors of certified organic ingredients, produce and livestock in Canada. Beginning in December 2008, products labelled as "certified organic" must abide by certain standards regulated by the Canadian General Standards Board (CGSB). These regulations are set for products grown both nationally and internationally. This means that in order for an imported product to be sold on Canadian shelves, they must follow the same standards as Canadian-grown products. Read more