The Florences and the Machine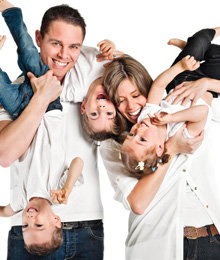 Learning that your child suffers from cerebral palsy (CP) is a powerful blow, weighty enough that most families barely have the strength to weather it. Now imagine being told that all three of your children will struggle with this condition for the rest of their lives; the very thought causes any parent strain.
But for Dana and Jared Florence, the parents of darling four-year-old triplets Taylor, Brody and Cole, the heartbreaking reality of CP in their family opened the door to an opportunity that has impacted countless families struggling with the same circumstance.
"I don't want to sit here and pretend it wasn't difficult," Dana recalls of the dizzying day when their triplets were diagnosed. "There were a lot of tears and a lot of anger and a lot of really difficult emotions. But we quickly decided that we were going to do everything we can for our kids."
Emerging from the experience with this positive perspective, the Florences decided to take action. With this vision in mind, Three to Be, a charity focused on amplifying research, care and treatment options for kids with neurological disorders, was born.
Fast-forward two years: Three to Be is now a smash success, having raised over $1.5 million for organizations such as The Hospital for Sick Children, Holland Bloorview Kids Rehabilitation Hospital and March of Dimes Canada. This year is especially rewarding for the Florences, as they watch Taylor, Brody and Cole enter their first year of classes at Bloorview. One of Three to Be's most notable achievements has been raising $400,000 to purchase a Lokomat Pro for the Holland Bloorview Kids Rehabilitation Hospital — an innovative robotic machine that assists children with CP learn to walk and improve their motor function.
At Three to Be's third annual Stems of Hope Gala, titled Heroes Among Us, guests were treated to performances by hip-hop heroes Naughty By Nature, Young MC, Rob Base, and Master Gee and Wonder Mike from the original Sugarhill Gang. Funds raised will benefit stem cell research at SickKids Hospital, Bloorview School's communication lab, as well as the Academy of Conductive Education for Children with motor impairment at the March of Dimes.
At the end of the day, Dana and Jared return to a home full of smiling faces, which, for them, is the ultimate purpose for Three to Be: sharing their optimism and hope with other families faced with the same obstacle. "They're going through this together," Dana says of her kids — the siblings who inspired it all. "I hope one day … they'll understand [that] with everything that they've been through, they've inspired something that's really powerful."