Porter Airlines CEO, Robert Deluce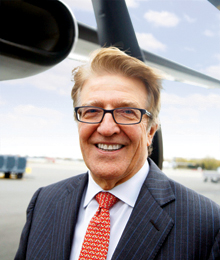 Robert Deluce shows no signs of jet lag after touching down in Toronto just before sunrise. His red eye from California was preceded by a long day of aircraft-fuelled meetings neither distracted nor tempted by the Golden State. When we meet in his office at Billy Bishop Toronto City Airport later that afternoon, it becomes apparent that the CEO and president of Porter Airlines isn't the type of man that mixes business with pleasure, but a man who paradoxically puts forth a company that does.
Deluce gestures warmly towards his office where to the left of his uncluttered desk rests a pile of framed portraits that chronicle his roots and achievements in the aviation industry. Despite their significance, they emit an unpretentious display as they rest on the floor stacked against the walls.
He's particularly amused by Mr. Porter in the room, a playful figure of the company mascot fashioned with leftover parts and pieces from Bombardier. The model was a gift from the aircraft company when it delivered Porter's 20th Dash 8 Q400 turboprop back in 2010. In an advertising world saturated with puppies and bunnies, the raccoon seems an unlikely choice to represent a corporate brand, but Deluce applauds the curious creature for its persistent personality. "I think we have a lot of individuals who can be equally thought of as Mr., Mrs. or Miss Porter within our organization. I think they are quite determined, and they manage to find ways around the little challenges or speed bumps … they seem to come out on top in achieving the end-result."
Born to aviation parents in a family of nine children, the Deluce name has been a fixture in the industry for more than five decades. Deluce's father, Stanley Deluce, was a Hawker Hurricane fighter pilot for the Royal Canadian Air Force during World War II before launching White River Air Services. The company eventually purchased Austin Airways, one of the oldest airlines in Canada to connect people to remote communities before its interest was sold to Air Canada in 1986. The family patriarch also broke new ground when he established air-ambulance jet service in Ontario. Deluce nostalgically selects a frame of his father from his collection, where the family patriarch is dressed in a tuxedo for his induction into the Canadian Aviation Hall of Fame in 2008.
As former executive of the family business Air Ontario (which was sold to Air Canada), Deluce is well aware of the trajectory new entrants endure in a sky monopolized by travel juggernauts and unpredictable fuel prices. Six years after Deluce resigned as its CEO, Canada 3000 took an unexpected nosedive due to a decrease in passengers in a post 9-11 world. Other airlines stuck in the rut of the shaky airline scene include Skyservice Airlines and Roots Air, a start-up that closed the same year it opened.
Internalizing the unrelenting qualities of his company's furry face, Deluce has steered the regional airline of Porter through some difficult terrain. Long before the financial meltdown of 2008-2009, a strategic yet controversial bridge that would connect passengers to the island airport was proposed by the Toronto Port Authority (TPA), but later cancelled by the city after former mayor David Miller, who opposed the project to preserve Toronto Harbour, was elected in 2003. "The bridge not going ahead probably helped us in the end. It allowed us more time to put together a stronger management team, and to probably attract significantly stronger financing … It took us a couple more years to get ready and to do the alternative plan, but things happen for a reason, and we really haven't look back," says Deluce, who received an undisclosed amount of compensation after settling a lawsuit against the city of Toronto and the Canadian Federal Government. Privately owned Porter, which has suspended an initial public offering, is waiting for an appropriate market and financing requirement to go public.
After the bridge setback, Deluce turned towards improving access to the airport, which resulted in two new ferries financed by the TPA. The romantic route to the airport arrives every 15 minutes and takes 90 seconds to reach the island airport, where there are two departure lounges. As early as next year, construction on a $45-million pedestrian-only tunnel proposed by the TPA will commence. "Sometimes you're given a lemon, and sometimes you have to turn it into lemonade," he says. However shy and polite in his manners and conversation, Deluce is not one to be miscalculated when it comes to getting what he wants.
Since its inception, Deluce has shrewdly readied his course against major competitors such as Air Canada and WestJet, tightly controlling Porter's breathing space in a climate stifled with volatility. "He's setting out to run a very successful airline," comments Joseph R. D'Cruz, a professor of strategic management at the University of Toronto's Rotman School of Management. In the same year that Porter Airlines launched, Air Canada was ejected from the island airport by the Deluce-owned Regco Holdings Inc. (now Porter Aviation Holdings), which purchased the terminal being used by Air Canada Jazz. This allowed Porter total domination at Billy Bishop – up until now. After an enduring court battle, Air Canada returned to the island earlier this year, operating 30 takeoff/landing slots compared to Porter's 172. But Deluce doesn't mind having his enemies closer: as the landlord of the airport's operating bases, Air Canada has to pay him terminal fees. "Air Canada really played into Deluce's hands because it treated the airport very poorly. Porter actually rescued the airport from bankruptcy. Firstly, [Porter] bought the terminal buildings from the airport, which improved the airport's cash flow, and secondly, it signed a long-term, very favourable contract with the airport. Air Canada brought those problems onto itself because it refused to sign a long-term contract," says D'Cruz, who doesn't foresee Air Canada's presence as a major threat to Porter.
Apart from the challenges, the licensed pilot, whose description of flying parallels his business approach, remains an optimistic leader. "It's actually quite pleasant popping through the cloud and have nothing but sunshine up above."
To date, Porter has flown over five million passengers in its short history, with more than 200,000 of its passengers originating from Toronto's 905 area code. This year marks the fifth anniversary for the regional airline, whose number of employees has significantly risen from 200 to 1,300 since its first scheduled flight to Ottawa in 2006. Catering to a monied, corporate crowd, Porter will have attained its 26th  fuel-efficient Bombardier turboprop by the end of this year. It is also considering increasing its five U.S. destinations to include Philadelphia and Washington, D.C., and introduce packaged vacations in 2012. The low-cost airline currently travels to 13 major Canadian cities, including Thunder Bay, Sudbury, Sault Ste. Marie and Timmins – areas that were hard to get to affordably before Porter came along. "I think that defines our success – the fact that we regularly now carry in excess of 200,000 passengers per month, whereas our predecessor, Air Canada, when they were here at this airport in their last 12 months of operating from Toronto City Airport, they only carried – now I'm not talking about a month now but in their last 12 months – they only carried about 20,000 passengers. In a single month we are now carrying better than 10 times what they carried in a full year." Air Canada continues to be the nation's largest airline, with air transport to over 180 destinations.
Sometimes good things can come in small packages. The compact airline delivers an all-round pleasurable experience for its time-sensitive business travellers, with free bottled water and soft drinks, specialty coffee, muffins and sandwiches in its lounges. Onboard service includes complimentary beer and wine served in glassware as you sit back on leather seats with extra legroom. "It's a different experience when you come here, maybe it's a bit shorter for a person to get to [Toronto] Pearson [International Airport], but it's a much more complicated experience," relates Deluce.  The early days of flying are further evoked with flight attendants fitted in retro outfits and pillbox hats – a look recently emphasized with the explosive popularity of the TV series Pan Am.
Deluce acknowledges that a strong business plan and financial backing were key factors to confronting the tumultuous airline industry, as well as adhering to the company foundation blocks of "speed, convenience and service." His son Michael Deluce is Porter's chief commercial officer, part of a seasoned management of over 70.
While service and business savvy have contributed immensely to the success of Porter Airlines, Deluce's origins play an integral role. Deluce recalls his first memory on a plane: sitting on a cushion on a seat next to his father, who would allow him to fly while the plane was in flight. Aviation was in his blood long before earning his wings as a commercial pilot or signing off on corporate deals. "There's lots of things I'll never forget about him," says Deluce of his mentor. "I think that the basic business philosophy in terms of treating individuals the way you would want to be treated yourself – that's probably something that I can remember him always sort of using as a basic guiding principal in terms of how he dealt with individuals in a fair manner. And I think we try to do that here, too."
www.flyporter.com