United Medicine Group: The Balancing Act of Integrative Medicine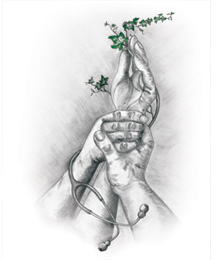 Balance is a crucial component of life, it keeps us centred and embraces the strengths of opposing means to uncover a harmonious solution to the problems we face. United Medicine Group (UMG) subscribes to this train of thought, combining conventional medical training with complementary and alternative therapies to harness the strengths of each for maximum results.
Those discouraged by the lack of compassion from conventional medicine, but also with the absence of alternative medicine's access to modern technology, will find potential answers in UMG's integrative medicine method. Medical technology such as MRIs and CT scans are made available, as well as specialist referrals, intravenous vitamins, Reiki, reflexology and other more personal complementary health-care services to better treat each patient's unique condition.
Founded in 2009 by Rita A. Mikkelsaar and Dr. Vlade M. Gagovski, UMG was the culmination of Dr. Rudy Falk's years of inventive work, pushing to improve treatment responses of conventional caner therapy, and the need to harmonize its strengths with new medical treatments.
A nurse who began her career at Toronto General Hospital, Mikkelsaar worked with Dr. Falk since 1980, helping to start the first active cancer centre in Canada in 1985. Today, Mikkelsaar continues this work by assisting physicians wanting to broaden their current practice to incorporate complementary medicine into their repertoire.
UMG's rare approach takes into consideration psychological and emotional factors, creating a personal approach that looks outside of medication alone for treatments. This collective of private, integrative medical clinics continues to innovate and meld conventional medicine with complementary methods, to provide patients with therapies that best suit
their circumstance.
Q&A with Dr. Vlade Gagovski
Q: You are one of the few doctors in Canada offering Insulin Potentiation Therapy (IPT). What is IPT?
A: Basically, it's giving lower doses of chemotherapy. The unique thing about the treatment is using insulin as a delivery system to enable the use of lower doses of chemotherapy agents.
Q: What are the major benefits of IPT?
A: Generally, if chemotherapy is going to work, and that's a very difficult thing to determine, we try to do it on genetic testing that we do abroad in west Germany at the present time. We do a chemo-sensitivity analysis, whereby circulating tumour cells from the patients' blood are isolated, and based upon that testing that's done on them, they send back a chart stating which chemotherapy and other agents are preferable in terms of killing the most cancerous cells of that type. Having that information at hand, we use IPT with those chemotherapy agents.
Q: Why is this better than chemotherapy on its own?
A: Because you're using a much lower dose, generally 10, 14, 16, 18 per cent of a conventional dose. And studies have been done whereby the mechanism of delivery using the insulin followed by 50 per cent glucose after you've given the chemotherapy enables you to get a therapeutic concentration of your chemo agent inside the cancer cells preferentially, thereby immune suppression, bone marrow suppression, cardiac, renal, hepatic, peripherally neuropathy, the nausea, the vomiting, the weakness, the hair loss, is very minimal.
Dr. Vlade M. Gagovski, MD, LMCC, DMP: A member of the College of Physicians and Surgeons of Ontario and the Ontario Medical Association, Dr. Vlade Gagovski is always searching for cutting-edge treatments. He affords adjunctive therapy for cancer, providing cellular, nutritional and immune support for patients undergoing conventional therapy, and one of, if not the only physicians in the country, offering Insulin Potentiation Therapy.
United Medicine Group / Dr. V. Gagovski-Cancer Immunotherapy Centers:
18 Wynford Dr., Suite 511, Toronto, ON  M3C 3S2. Tel: 416-385-9900  Fax: 416-385-9907