Changing the World One Brick at a Time: Vivian Risi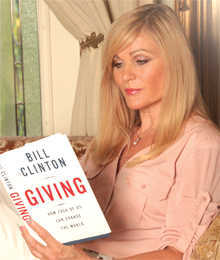 It was October 2008. Major financial institutions in the U.S. were falling at the pace of leaves and the media was saturated with reports of the tumultuous subprime mortgage crisis, market crashes and a looming global recession. Business owners across an array of industries were feeling their first beads of sweat. "Our economy was greatly affected," says Vivian Risi, owner of real estate firm Royal LePage – Your Community Realty.
Just before the news broke, Risi had taken on the role of Capital Campaign Chair of York Region's Yellow Brick House, pledging to raise funds for YBH's much-needed second shelter. "You can imagine the pressure I felt knowing that I had just committed to raising $4 million. I didn't want to let anyone down," she says.
In the midst of her concern, Risi was invited to a conference at Toronto's Four Seasons Centre, where former U.S. President Bill Clinton was speaking. The event ultimately opened her eyes to the infinite possibilities of philanthropy. "My brief meeting with Bill Clinton was a brush with greatness," says Risi, who promptly picked up his book, Giving: How Each of Us Can Change the World (Random House, 2007). "The more I read, the more inspired I became. The stories were about real people from all walks of life and every income level. It expanded my focus to the ongoing bigger picture of giving."
Motivated to do more, Risi let go of any limiting reservations and began fundraising to her fullest capacity for the Yellow Brick House. "When I take something on, I take it on wholeheartedly. It is our responsibility to ensure a healthy society for tomorrow," she says. Today, Risi has almost reached her goal, and the second Yellow Brick House shelter will soon be a reality.
"There are no words that can describe what I am experiencing right now, other than never underestimate your inner strengths and the power each of us have to make things happen, 'how each of us can change the world,'" she says.
www.yellowbrickhouse.org
www.yourcommunityrealty.com