The Right Diagnosis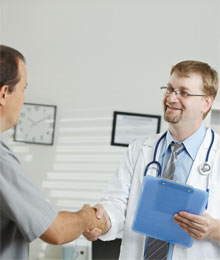 Best Doctors all started back in the 1980s when a group of Harvard professors gave the world's health care systems a check-up. They found that many individuals were paying top dollar to come to the United States for diagnoses and treatments. But why should they have to leave their personal physician and family support to get adequate medical attention and advice? This question was part of Best Doctors' foundation and remains at the core of its service today.
"The beauty of what we do is that it doesn't matter where [patients] are located," explains Dianne Carmichael, president of Best Doctors Canada. "Our model is to – wherever possible – work with the existing treating teams so patients aren't uprooted from their support system and to provide as much information and knowledge as possible to the patient and their treating team."
A medium for comprehensive medical information, Best Doctors offers second opinions and answers to your queries from the world's top specialists. Best Doctors collects each member's medical information, which is then sent to a panel of Harvard-trained physicians in Boston. They review your case and send their findings to one of 50,000 Best Doctors around the world who specialize in your particular case. That specialist then sends a detailed report to you and your personal physician, outlining your diagnosis and suggested treatments. On average, Best Doctors changes diagnoses 22 per cent of the time, and modifies or changes treatment just over 60 per cent of the time. "We don't work against the medical community, we try to work with them," continues Carmichael, who has helped grow Best Doctors' Canadian members from 300,000 to nearly 5 million in the four years she's been at the helm.
Many companies include Best Doctors in their employee benefit packages, and for individuals who aren't covered, the cost is only $150 a year or $225 for an entire family. Unfortunately, many individuals are unaware of this service or simply don't know they are already covered.
Marion Leyland benefited from the clarity of Best Doctors when she was experiencing severe abdominal pain. Her physician couldn't pinpoint the root of her pain, so Leyland contacted Best Doctors, who put her in touch with a specialist in Toronto. "The specialist there said that I needed immediate surgery," recalls Leyland. "What they found was that I did have a large cyst on my ovary, but the ovary had twisted on itself and fell over, impacting the bowel." Best Doctors provided Leyland with the correct diagnosis and treatment and she is alive and well today.
Best Doctors also helped 11-year old Paige McInnis when her doctor informed her that her heart was enlarged and she could die at any moment. Paige's mother, Lori, was obviously distraught, but after contacting Best Doctors, she received a report indicating that her daughter had vasodepressor reaction – a benign condition similar to low blood pressure. They suggested a simple dietary change and Paige now understands her condition and how to keep it check.
"[People] need to know the alternatives and have their eyes open," says Carmichael. "Sometimes mistakes can be made no matter how much our medical system cares and is trying – errors can be made. I just want people to be protected as much as possible, and to at least be aware."
For more on Best Doctors, go to www.bestdoctorscanada.com 1.877.419.2378