UFC: The Face of Things to Come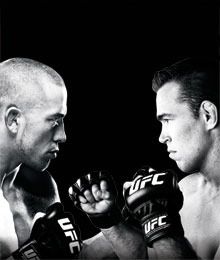 Cry havoc and let slip the dogs of war. The Earth will tremble under the colossal weight of the approaching goliath that is the Ultimate Fighting Championship (UFC). The drums of battle will rumble throughout the city streets, as the various factions of modern-day samurai descend upon Toronto to engage in glorious battle. UFC 129 is coming to town, and there's one thing that's certain: it's going to be big.
"I think it will be a benchmark event," says Joe Ferraro, Rogers Sportsnet's UFC analyst. Already, the sheer scale of UFC 129 has shattered the previous attendance record of just over 23,000, set at UFC 124 in Montreal, by selling 55,000 tickets and raking in $11 million. These figures will make the crowd at UFC 129 the biggest paid audience to ever witness a mixed martial arts (MMA) event in North America – a benchmark indeed.
The night's card features Canadian favourite Georges (Rush) St-Pierre, defending his welterweight title against former Strikeforce middleweight champion Jake Shields in the main event; Hall-of-Famer and UFC legend Randy (The Natural) Couture takes on former light heavyweight champion Lyoto (The Dragon) Machida, and Canadian Mark Hominick has his eye on Jose Aldo's featherweight title. In total, UFC 129 will feature 10 fighters hailing from the Great White North, giving the card a heavy Canadian presence.
The UFC's long-awaited Ontario overture is set for April 30 at the Rogers Centre in Toronto. Initially, 42,000 tickets were posted on February 10 in a pre-sale for UFC Fight Club members, but were completely gone in under an hour. An extra 13,000 were made available for a second pre-sale on the 11th, but again vanished within minutes of going on sale, leaving only a handful available for the general public on the 12th. Tickets ranged from $50 – $800, depending on location. If, like many others, you missed out on getting tickets through the initial sales, there's still plenty available online. StubHub currently has a number of tickets, ranging from $69 for nosebleeds to $5,199 for ringsides. If you're feeling advantageous, there's a suite available for $49,000, and two floors for just under $29,000.
Not only is this the first time the UFC has ever been showcased in Ontario, it's also like the UFC's title shot. Sure, the UFC is shown in 354 million homes in 145 countries around the globe. Yes, it's the fastest-growing sports organization in the world. And, of course, after purchasing Pride Fighting Championship, World Extreme Cagefighting and Strikeforce, it's easily the world's leading MMA promoter. But never before has an UFC event been held in a stadium with a crowd of this magnitude. Attendance for most events floats around 15,000 give or take, and the last three UFC events have only brought in a gate of just over $9 million combined. The success of UFC 129 will undoubtedly shape how fans enjoy the sport for years to come.
An obvious big night for the UFC means a big night for Toronto. "We think that the economic impact on the city of Toronto … is going to be around the $30 – $40 million range," says Tom Wright, director of operations for UFC Canada. "They can say, 'look, we sold 55,000 tickets in the city of Toronto, why can't we do this in countries like England or back down in Australia, or … even in Mexico?'" adds Ferraro.
There is just no debating the monumental impact UFC 129 will have on both the future of the sport and Ontario. With a two-day fan expo on April 29 and 30, it's not every day Toronto sees an event of this degree and with so much buzz – let's be honest, the Leafs aren't making the playoffs any time soon and the Jays are lucky if they fill half their seats – in our backyards. To put things in perspective, 50,000 tickets were sold when the Buffalo Bills played the Chicago Bears last November and 45,000 were snatched up when AC/DC blew the dome off the Rogers Centre in 2009. In fact, the last time the Centre was filled with 55,000 was when the Jonas Brothers serenaded a horde of screaming prepubescent girls in 2009; arguably far more terrifying than a crowd of MMA fans. In the upper echelon of premier events to hit Toronto rests UFC.
From a grassroots level, many gyms in Toronto have already begun to see an influx of members, thanks to the hype generated by UFC 129. For instance, Xtreme Couture – Randy Couture's Toronto-based MMA gym – has seen a substantial increase in interest over the past few months. "It's increased like 200 per cent," comments Candice Kay, Xtreme Couture's official female spokesmodel and founder of its women's mixed martial arts program. Kay explains how not only is MMA the reigning champ of physical workouts, but it's an outlet for aggression, builds character and develops discipline – even in young kids. "All the kids that are involved, none of them are trying to go out and fight anybody. If anything, we have kids (girls included) I've never seen with so much confidence and who are so friendly," continues Kay.
As well, since MMA was sanctioned in Ontario this past August, an army of amateur events have helped to further promote MMA. "We've met with a number of local promoters over the past almost three months; folks started coming in in early January right after the sport became legal, and right now we've got approximately 20 mixed martial events licensed for Ontario, and we're looking at other proposed ones as well," explains Richard Hustwick from the Office of The Athletics Commissioner, the organization that enforces the regulatory requirements related to combat sports in Ontario. These newly licensed amateur events will help boost popularity for the sport and also pump more revenue into the province. This excitement for MMA is why the UFC's president, Dana White, has referred to Canada as the mecca of MMA for years. Canada consistently accounts for more than 20 per cent of the UFC's Pay-Per-View revenue and the unprecedented response for UFC 129 further demonstrates how passionate Canadians are for MMA. "When they [the UFC] go internationally to hold these events, it doesn't matter what country or what city, there are always Canadian fans that travel abroad and make it clear to [White] they are Canadian," continues Ferraro, who is the founder of Showdown Entertainment, an MMA media business.
Yet the journey to bring MMA to Ontario was a long and arduous one. White continuously chipped away at the doubt of Canadian politicians, finally seeing the UFC make its Canadian inauguration in April 2008 with UFC 83 in Montreal. As hard as he fought, White just couldn't pass the guard of the Ontario government. To facilitate the transition into Ontario, the UFC brought former CFL Commissioner Tom Wright to their corner, naming him UFC Canada's director of operations. Grappling with the negative political perspectives that couldn't see past the bloody, no-holds-barred brawls of the combative sport's past, Wright played a major role in getting the 'W' for MMA, which was finally sanctioned this past August and became officially legal in January. "It's really working hard to dispel the myth and inform perspective," explains Wright. "You do that by providing facts and you do that by making sure that the people who have some doubts… visit some of our gyms, meet some of our fighters, watch an event, see how well it's regulated, see how professional our athletes are, see how respectful they are. All we want is for people to make informed, objective decisions."
Now that MMA is firmly planted in Ontario's athletic environment, Ferraro has a vision of youth MMA leagues – like other junior sports such as hockey and boxing – where rules can be tweaked. For example: no striking for competitors under 18 to ensure the safety of younger athletes. Once they have enough amateur contests under their belt, up-and-coming athletes could step into the cage professionally. "By doing that, what will eventually happen is you're going to be building the next Georges St-Pierre," Ferraro envisions.
On top of future events, the UFC already has plans to develop Canadian-specific content, such as The Ultimate Fighter (TUF) Canada (a TV show where amateur fighters compete for a UFC contract). "They probably won't show themselves until 2012 or 2013, but we've already started having conversations with different individuals regarding the production of a TUF Canada," divulges Wright, who also disclosed that Toronto is planned to be one of three annual stops for the UFC in Canada.
Whether you love the fierce competition or you shy away from its violent nature, MMA is here to stay. All eyes will be on Toronto, as this night will determine the platform for future events. If you're one of the lucky few who slapped a rear naked choke on a pair of tickets, you can feel blessed to be part of MMA history.
www.ufc.com
QUICK FACTS
▶  This is the first time the UFC comes to Ontario, and the first time an UFC event is held in a stadium.
▶  UFC 129 broke the previous attendance record by drawing a crowd of 55,000.
▶  It's estimated that UFC 129 will bring $30 – $40 million to Toronto.
▶  The last time the Rogers Centre was filled with 55,000 was for the Jonas Brothers concert in 2009.