Michael Kaeshammer: Brightening up the Blues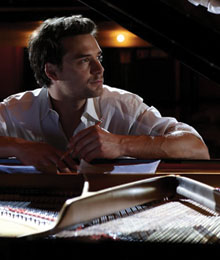 A sleek black Yamaha grand piano is positioned in the centre of Michael Kaeshammer's Toronto loft: a fitting location for a young man who has built his life around this musical instrument. "I've never had a different job in my life," says Kaeshammer, who is set to debut his seventh album Kaeshammer in April 2011.
"My dad was a huge jazz fan and when I was a kid that's all I knew … without him I wouldn't be playing the piano."
The charismatic pianist ended last year successfully. He performed with sultry vibrato Jill Barber, and was the under card in Anne Murray's tour across Canada last year. "I was so impressed that [Murray] would go out and have so much fun performing and it was all sincere."
His sixth album Lovelight has critics calling it his best work to date. The up-beat tunes on the album seem to stem from his current state of inner happiness. "I wake up in the morning and I really am excited for the day. I feel like I'm in the best spot in my life." The melodic rhythms, fused with boogie woogie, blues, jazz and fresh vocals, deliver a much-needed injection of "real" music into the electronically dominated sounds in the pop scene.
A child prodigy, Kaeshammer began to study classical piano in Germany at age seven. "I was playing some boogie woogie stuff one time, and my teacher was getting a coffee and he came in and he goes, 'you can't play that, don't play that kind of stuff.' I quit my lessons because of that, I was 13." By 16, he was playing professionally in European jazz clubs. The budding artist and his family moved to British Columbia when he was 18. He developed his talent in front of live Canadian audiences. The next landmark on his musical journey proved to be the most important. At age 26, he visited friends in New Orleans. What was supposed to be a one-week vacation turned into a year-long occupation. Kaeshammer effortlessly claims, "I got offered a gig with a local gospel and jazz group and I decided to stay." This experience forever changed his career.
"Being down there for that year and hanging out with those people, I learned that it's not about the music as much as about the message and about the feeling you get from it, so the music is really just a vehicle to get you through what you're trying to express. Before that I was just trying to impress people with my piano playing  … it all changed for me there."
Catch Michael Kaeshammer at Toronto's Massey Hall on April 30, 2011.
Q&A – Michael Kaeshammer
Q: When I watch you play, your hands are magical but it also looks like your feet are  dancing, why is that?
A: "I get really hyper when I sit at the piano. I'm usually a calm guy but when I sit at the piano I turn into the "octopus." I want to be part of the instrument.
Q: What price do you put on inner joy?
A: "It's priceless. If you don't have that, the rest of it is not worth it – whatever you do."
Q: What are you reading right now?
A: "I'm reading Keith Richards' autobiography. I was a huge Rolling Stones fan as a kid, and I still am."