Anytime Fitness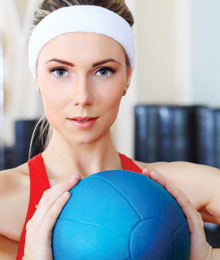 Committing to a healthy lifestyle is like walking a tightrope: it requires balance, determination, and is easy to fall off. There are plenty of ways to keep you on this difficult path, but even more to pull you off, like that ever-so-tempting fastfood craving. Anytime Fitness will keep you committed by offering a gym that embodies the very definition of "convenience."
Tony Caparotta – former owner of Fitness Source – has been in the fitness industry for 27 years. After selling his business, he discovered Anytime Fitness – a U.S.-based, community driven club that strives to be exactly what the name implies: a gym open at "any time."
"That little key card grants members full access, giving them ownership; they come in here and treat it like it's their own facility, and it works," explains Caparotta, who owns the Maple, Woodbridge and Bolton Anytime Fitness centres. "The whole corporate model is keep the club clean, give members the best equipment, and make sure there's a sense of community and belonging – it's the closest thing to having a gym in your own home."
A key component to Anytime Fitness is to truly be opened 24 hours a day, 365 days a year. Many gyms claim to be open 24 hours a day, but only during the week. And holidays? Forget it. Anytime Fitness has a unique system where members are given access to the facility at any time, any day, period. That's pretty convenient. As a member, you are also granted access to any of the 1,500 Anytime Fitness locations in the world. "That's really what we're all about: the convenience of it … I never turn my lights off," exclaims Caparotta, who also owns Athletic Republic, a high-performance training centre for elite athletes.
These client-focused clubs also provide members free access to phenomenal group activities including spinning, Zumba, boot camp, yoga and Pilates. Anytime Fitness also staffs top-grade personal trainers to keep you motivated and help you reach your fitness goals. Security is also a priority. Dozens of cameras, motion detectors and private bathrooms and showers that lock from the inside ensure your safety.
"Because we are truly opened 24/7 we're never really busy. People have the convenience to workout at 10 p.m. on a Sunday or 10 p.m. on a Monday; it's never packed. People really like that," comments Caparotta.
For those looking to make a real lifestyle change and to commit to a healthier way of life, Anytime Fitness is the place for you. As Caparotta explains, "What we provide is the quality of equipment, the quality of classes, the motivation you don't get at home and the variety of equipment – and that variety will help you stick to a program. That, along with the convenience, will definitely help you change. Remember: attitude is what changes behaviour."
www.anytimefitness.com
Bolton: 905.857.8857
Woodbridge: 905.265.7558
Maple: 905.417.2442