Naughty or Nice: Gift Guide 2010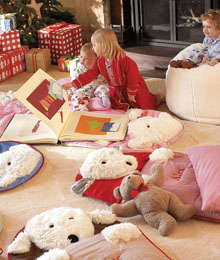 Cottonfield
For a modern and handsome look, check out the latest winter-wear from Danish designer, Cottonfield. A classic lambswool pullover covers a cotton plaid shirt, completed with an attractive blazer and a soft wool, acrylic scarf. Have him looking sharp for those brisk winter walks in these traditionally-styled outfits.
Keurig Coffeemaker
Small and stylish, this modern coffeemaker quickly brews your favourite blend in just minutes. Utilizing the patented K-Cup system, you can be sure the perfect amount of any rich and delicious beverage is brewed every time.
Hostess Gift Bag
A hostess gift bag is a thoughtful and personal way to show you care this holiday season. Fill your own bag with a variety of Pier 1 products including festive mugs, vibrant bracelets or wonderfully scented candles.
Flower Headband – Spanning Seasons Headband
This cute and adorable headband is the perfect accessory for any season, and will make that new holiday hairstyle blossom.
Gucci Watch – G Chrono Collection
A stainless steel bracelet and case encapsulates 54.78-karat diamonds shaped in a stylish "G" highlighting the Gucci brand. This tasteful Swiss-made wristwatch is ideal for any man with class.
Lit Boxwood Wreath
With a rich authentic look, these artificial boxwood wreaths sparkle with soft incandescent lights – the ideal accent for festive holiday settings.
Wilse Dress
Inspired by the practical styles of the 1940s war era, Part Two's latest line offers a simple, yet sexy look that displays beauty radiating with intelligence. The Wilse Dress is a comfortable and refined outfit that still manages to create a seductive allure on those curvy feminine bodies.
Chopard Ring
The Chopard logo wraps brilliantly around this phenomenal 18-karat white gold ring. Set with sparkling diamonds, this chic piece of jewelry exudes elegance.
Feather Wreath
Fabulously fine feathers fashion a fantastically full look, yet still functionally fit with the fun and festive holiday flavour.
Elf on the Shelf
A smart and cute holiday book presents an enjoyable tale that reminds children Santa is checking his list, and you better believe he knows who's naughty or nice. The charming elf doll keeps an eye on kids during the day, and reports to Santa by night.
Quo Jewel Lip Gloss
Available in shades of beige, nude and pink, create a lovely glow with these luscious lip glosses – the perfect stocking stuffer for the lady in your life.
Lincoln Stamp Pillow
Pressed with a replicated Abraham Lincoln stamp, this historical pillow is an attention-grabbing addition to any living room, library or office.
Quo Click on the Glitter
Bold purple, blue, silver and black glitter will have you shimmering under the bright lights of those decadent holiday gatherings.
Deicing Salts
Combat the icy conditions around your home and add a pleasant aroma to your walkway with these wonderfully scented salts.
Simon Chang Dress
Ruffled with feathers and dotted with jewels, this flowing black dress by Simon Chang radiates confidence and adds a shade of modishness to an otherwise joyous season.
Childrens Burberry Clothing
With world-renowned designers such as Escada, Ed Hardy and Burberry, Designer Kids Wear will have your children dawned in trendy scarves, stylish jackets and other charming winter apparel. Dress your child in the hottest designer clothing, ideal for those frosty winter days.
Kids Pajamas
Soft, warm and adorable, these seasonal polyester pajamas are perfect for those chilly winter evenings. For a personalized touch, have them embroidered with your little one's name.
Meandering Mums Skirt
This delightfully charming flowered skirt is lined with pretty pink blossoms over a polka dot backdrop – an adorable addition to any little girl's outfit.
Men's Winter Attire
Combining comfort, style and functionality, Peak Performance's winter wear is the ideal outdoor attire for any avid adventure-seeker. Carve through freshly fallen powder in these vibrantly coloured, award-winning garments.
Lacoste Shoe
Showcase your conviction in style with these phenomenal leather shoes from renowned designer Lacoste. White soles and laces emphasize the shoe's deep green colour, making a confident statement about your appearance.
SOURCE GUIDE: Men's Wear, Cottonfield, Denmark, +45.7030.2828, www.cottonfield.dk; Keurig Coffeemaker, www.keurig.com; Hostess Gift Bag, Pottery Barn, Toronto, Eaton Centre, 416.597.0880, www.potterybarn.com; Flower Headband, Anthropologie, Toronto, 416.449.6666, www.anthropologie.com; Gucci Watch,  L'Oro Jewelry, Vaughan, 905.660.9993, www.loro.ca; Lit Boxwood Wreath, Pottery Barn, Toronto, Eaton Centre, 416.597.0880, www.potterybarn.com; Wilse Dress, Part Two, Denmark, +45.3347.9797, www.parttwo.com; Chopard Ring, L'Oro Jewelry, Vaughan, 905.660.9993, www.loro.ca; Wreath, Anthropologie, Toronto, 416.449.6666, www.anthropologie.com; Elf on the Shelf, Pottery Barn Kids, Toronto, 416.785.7375, www.potterybarnkids.ca;
Quo Jewel Lip Gloss, Shoppers Drug Mart, Vaughan, 905.851.2199, www.shoppersdrugmart.ca; Lincoln Stamp Pillow, Teatro Verde, Toronto, 416.966.2227, www.teatroverde.com; Quo Click on the Glitter, Shoppers Drug Mart, Vaughan, 905.851.2199, www.shoppersdrugmart.ca; Deicing Salts, Teatro Verde, Toronto, 416.966.2227, www.teatroverde.com; Dress, Simon Chang, Thornhill, 905.709.9998, www.simonchang.com; Children's Burberry Clothing, Woodbridge, 905.264.7228, www.designerkidswear.ca; Kids Pajamas, Pottery Barn Kids, Toronto, 416.785.7375, www.potterybarnkids.ca; Meandering Mums Skirt, Anthropologie, Toronto, 416.449.6666, www.anthropologie.com; Peak Performance Men's Winter Attire, Kenmark Snowsports, Richmond Hill, 905.883.5586, www.peakperformance.com; Lacoste Shoe, Lacoste, Toronto, 416.781.8495, www.lacoste.com