Pure FX Fitness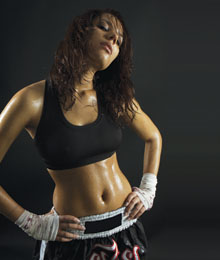 Our shorts, tees and bikinis are tucked away because of the colder weather, but this does not mean our physical activity should stop.
Located in Vaughan, Pure FX Fitness is an inviting and revolutionary gym that focuses on helping all of its members see and feel the positive physical and emotional benefits associated with physical activity.
"Regular exercise helps reduce the risk of developing heart disease, high blood pressure, high cholesterol, diabetes and several types of cancer," says Lora Calabro, co-owner of Pure FX Fitness. "The key to doing this is being informed on what is available out there and what works for you; this is where Pure FX can help."
In an effort to keep their members motivated with the best fitness experience available, Pure FX introduces new equipment regularly. Recently it has added several exciting pieces to its 7,200 sq. ft. facility, including Concept 2 rowing machines, a Matrix's glute machine, leg press and the Johnny G KRANKcycle.
The KRANKcycle provides a heart-pumping upper body cardiovascular workout and its innovative technology makes it completely wheelchair accessible. It can also be performed in a seated or standing position.
"The inspiration behind introducing this piece of equipment came from Mark Ledo, a paraplegic athlete and bronze medalist of the 2010 Para-Cycling World Championships. He has been training at our studio for over a year after searching for a multi-functional facility that would suit his needs," says Calabro.
Due to popular demand, Pure FX is also expanding the frequency of its services. Boot camp classes will now be offered indoors during the winter season. Pure FX will also join forces with Vellore Medical Centre to offer chiropractic and chiropodist therapy; registered massage therapy and athletic therapy services to provide members with a beneficial rehabilitation and wellness experience. Regardless of your age, abilities and physical challenges, at Pure FX, you'll better your health with a much-needed dose of physical activity. www.purefxfitness.com 905.303.9900