Castello Ristorante Antico, Woodbridge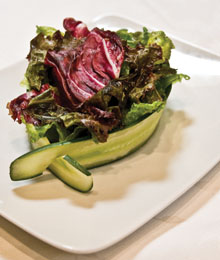 If its authentic Italian décor doesn't catch your eye at first, the enchanting aromas of its superb cuisine will surely lure you into this fine restaurant for a bite.
The elegant Castello Ristorante Antico, owned by Attilio and Maria Polsinelli, holds home to an intimate eating establishment that provides all its visitors with a genuine Italian taste and romantic atmosphere.
As you're seated by one of the warm and welcoming staff members the candles, dimmed lighting, beautifully set tables and vines sprawling on the sides of the walls around you will all catch your attention.
Flipping through a variety of appealing and intriguing entrees, appetizers and desserts, you will come across many options, including homemade pastas and seafood selections in the menu, which changes seasonally to offer an assortment of authentic Italian flavours. Starting Oct. 1st, a new lunch menu will include a panini selection featuring gourmet focaccia and ciabatta sandwiches with arugula, grilled vegetables and chicken; goat cheese with shredded steak, and so much more.
But Castello isn't just a divine restaurant – it can accommodate and host as many as 350 guests in its beautiful setting to help you celebrate any important event.
Whether you're having an engagement, bridal shower, bar/bat mitzvah, birthday, corporate event, graduation or even communion, Castello will provide everything you need to make your event special. Aside from delicious food, beautiful space and impeccable hosting services, Castello also makes its VIP lounge available for a more private function.
905.264.9248  www.castelloristorante.com
3600 Langstaff Rd. at the northwest corner of Highway 400
Unit #12, Woodbridge, Ont.
Orecchiette Barese Recipe
3 tablespoons of extra-virgin olive oil
2 cloves garlic, minced
100 g orecchiette pasta
2 cups fresh dry baby spinach
1 sausage
sea salt and 2 pinches of dried crushed red pepper flakes
Heat the oil in a heavy large skillet over medium heat. Add the sausage and cook until browned and juices form. Add garlic and red pepper flakes, and sauté until fragrant for about two minutes. Add the tender baby spinach.
Meanwhile, when the reserved cooking water is boiling, add the orecchiette pasta and cook until al dente, – tender but still firm to the bite – stirring occasionally for about eight minutes. When cooked to desired bite, drain.
Add sausage mixture and toss to coat with the juices. Add the pasta to the skillet. Stir in the Parmesan and serve immediately.
Makes 1 serving.