The Party Closet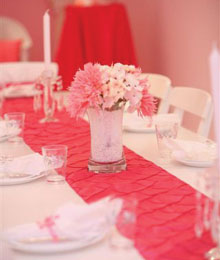 While your child's birthday is a special day, it can be one of the most stressful days for you.
That's why Silvia Persechini and Julie Russo created The Party Closet, a fun-filled birthday venue where every detail is taken care of. "There's a lack of venues for birthday parties in Vaughan where parents can go and enjoy themselves. There was a need for something fresh and more creative," says Russo, mother of two.
The Party Closet provides the ultimate girly, personalized birthday party where little ladies aged 2 to 13 can experience a fantasy day brimming with excitement.
The party starts with each little girl putting on crystal rhinestone-adorned flip-flops and going into the magnificent party closet, where they dress up in one of the adorable themed outfits that are also available to be purchased when the party is done.
Once they're dressed in outfits which include tutus, petty skirts, dresses and accessories, the girls get their makeup and nails done and participate in exciting activities such as singing, dancing, take-home crafts and a photo shoot.
"Our VIP package includes a professional photo shoot taken on our Party Closet stage, which is designed with a backdrop and a sateen to make your pictures look glam!" says Persechini. "You can either have an individual picture or one big group shot, and each guest takes home a 4" x 6" image." Each party is two hours long, includes the entire space to ensure a private party and has customized themes of diva, princess, garden or tea party.
After a consultation, parents choose a package, which includes everything from the theme, loot bag items and the menu.
"We sit down with our clients to see exactly what type of party they would like and work together with them to make it their party," says Persechini.  For your daughter's next birthday, sit back and watch your little girl and her friends have a blast at The Party Closet.  www.thepartycloset.ca
905.856.2364