Valterra Landscape — Breakaway in your Backyard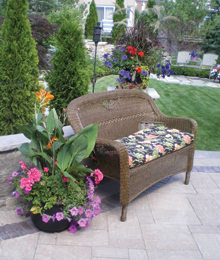 As  the temperatures begin to rise, so too will your desire to enjoy time outdoors. Don't look any further than transforming the garden behind your home the right way.
"People are entertaining outside nowadays, so the outdoor kitchen is being incorporated into a lot of our designs," says Vince Baggetta of Valterra Landscape Contractors Inc.
Enjoying a meal with your family or a get-together with friends in your own yard is made easy with Valterra Landscape Contractors Inc., which strives to create a pristine setting that will leave both clients and their guests impressed.
Some outdoor embellishments Valterra Landscape can add to create a serene sanctuary include eye-catching waterfalls, ponds and lush, vibrant plants and flowers.
"We meet with our clients, inspect their land, and begin brainstorming ideas to change their yard from boring to breathtaking," he says.
With over 20 years of experience in the landscaping industry, Baggetta reveals that elements of time, care and design will get your backyard in top form. His company – which has completed residential, commercial and industrial landscaping work in Vaughan and Toronto – is an official member of Landscape Ontario, an association representing over 2,000 horticultural professionals.
"We provide any sort of design and detail that a client wants for a personalized and perfected yard. If our client is happy, we're happy," says Baggetta.
www.valterralandscaping.ca
905.832.3082