Dancing with the Stars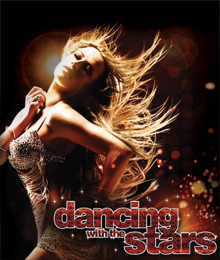 If you're like many of us, Monday night means slipping into pajamas, switching the smartphone to silent mode and watching the latest episode of Dancing with the Stars – while indulging in a bowl of freshly popped kernels, of course.
A long way from the friendly "dance-offs" of the '50s, this wildly popular reality series upped the ante – and the competition – by revamping the concept and inviting some of Tinsel Town's hottest stars to try their hand at dance's most beautiful and complicated styles.
The innovative concept has drawn a plethora of viewers, both male and female, to cheer on their favourite celebrity. Returning for its 10th season this March, the show has evolved considerably since General Hospital star Kelly Monaco took home the title in the show's 2005 debut, with many more contestants and a stricter rating scale.
Season 10 is already shaping up to be one fierce competition, with stars like mom of eight Kate Gosselin, former Pussycat Dolls frontwoman and solo artist Nicole Scherzinger, Olympic gold medalist Evan Lysacek, former Bachelor Jake Pavelka, Canada's own Pamela Anderson, Cincinnati Bengals wide receiver Chad Ochocinco, All My Children star Aiden Turner, actress Shannen Doherty, astronaut Buzz Aldrin, ESPN sportscaster Erin Andrews, and funny woman Niecy Nash in the running.
This season also brings a new co-hostess for Tom Bergeron: season seven winner Brooke Burke. As a lovely right-hand to the vivacious comedian, the two make a great team, with Bergeron introducing the dancers, and Burke capturing them after each performance for their take on the number and how the judges interpreted them by score. The original judge trio remains, with Carrie Ann Inaba, Len Goodman and Bruno Tonioli lending their immeasurable expertise and insight to the novice dancers.
As a viewer, you'd never guess that most of the contestants enter the competition without any formal dance training, leaving it to their professional dance partner to teach them the steps. These talented teachers turn beginners into elegant dancers who are so good that choosing a winner becomes an incredibly daunting task. We watch closely, week after week, as the contestants dip, salsa and merengue their way to first place, voting for our favourites and eagerly awaiting the judges' scores. Of course, one side effect of following the show is that it gives us the sudden urge to join a dance class. Even if the last move we ever learned was in our third-grade school play, fans feel vicariously motivated and inspired. Because there's something about watching a burly football player gracefully master the waltz that makes us think, "If he can do it, I can do it!"
Bearing in mind that reality television is a realm in which the underdog can prevail over the shoe-in, where contestants can fall suddenly ill at crucial times, and where feuds can start in the dressing room, the show does already have its promising frontrunners.
If you watched Season 10's March 22nd premiere, you might have noticed that those leading the competition also had some formal dance training under their belts. Scherzinger took the top score, while Lysacek came a close second.
Scherzinger's career as a singer and entertainer definitely make her a viable contender in this race. Gliding effortlessly across the dance floor with her partner, Derek Hough, the two looked like a match choreographed in heaven. Unlike some of the others, Scherzinger is no stranger to strutting her stuff before a crowd, and she's certainly demonstrated that thus far.
Meanwhile, America has already seen the amazing grace, power and prowess of Lysacek, the 2010 Olympic men's figure skating champ. Dancing with the Stars precedent tells us that the gold medal around Lysacek's neck might bring him luck as he trades his skates for dancing shoes, the way previous contestants Kristi Yamaguchi, Apolo Ohno and Shawn Johnson did. There's no doubt that Lysacek has the competitive fire to keep him alive in this contest.
Nevertheless, we can't forget about the other dancers who have surprised us with their recent performances. Pamela Anderson wowed the crowd with her hair-toss and fancy footwork, and although Turner may have received a low score, he did seem to exhibit some serious potential that may raise him through the ranks in the coming weeks.
So will the odds remain stacked in Scherzinger and Lysacek's favour or will the others catch up? It's hard to say. But one thing's for sure: we're in for a show-stopping, toe-tapping ride. With plenty more foxtrots and cha-cha-chas up their glittery sleeves, these dancers promise to bring some exhilaration to our Monday nights.
But don't get down if the star you were rooting for is eliminated. He or she might have failed in this ballroom battle, but they've won in the long run. With weeks of exposure and likely offers for fall's television lineup, you can expect to see them on screen when September rolls around! abc.go.com/shows/dancing-with-the-stars