Beauty — Day and Night Coverage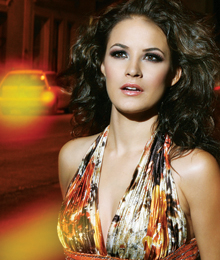 Nighttime — Make yourself dazzle, even in the darkness.
Anna Sui Moisture Rich Fluid Foundation
Give your face a flawless finish for a successful night out on the town.
Yves Rocher Eye Shadow and Mascara
Let your eyes stand out and illuminate even the darkest room with this sultry, smoky toned eye shadow palette and mascara.
Halle – Pure Orchid
Feel exotic, feminine and desirable throughout the evening with Pure Orchid, the latest fragrance from Halle Berry.
Cornella Lipgloss
Perk up your pout and let your lips shimmer in the moonlight with this gleaming, golden lip glaze from Cornella.
Lancaster Infinite Bronze Kaleidoscope
Create the perfect blend of colour and light from a sexy, sun-kissed glow – even after the sun has set – with Lancaster's transforming compact powder.
Daytime — Rise and shine after an endless evening
L'Oréal Skin Genesis Skin Perfecting Toner
Don't let your face reveal a late-night rendezvous — hydrate and refresh your complexion with a moisturizing, tender touch.
L'Oréal Sublime Bronze One Day Tint
Get that radiant, caramel-coloured skin without baking in the sun's skin-damaging rays.
Ojon Restorative Hair Treatment
Discover soft, silky locks with an iconic hair treatment infused with pure Ojon oil from Central America. With 10 per cent of sales donated to the Rainforest Alliance, your hair – and your conscious – will shine.
Lush Soap
Scrub your skin clean and leave it fresh-scented with these adorably designed soap bars.
St. Ives In-Shower Oatmeal and Shea Butter Exfoliating Body Polish
Polish, smooth and moisturize your skin just in time for the warm weather.
Nivea Calm and Care Spray
Find balance and comfort after shaving with Nivea's Calm and Care Spray, a reliable antiperspirant that's gentle on your skin.
Yves Rocher Cuticle Exfoliating Correction
Take a break between polish changes and manicures to give your nails a treat with Yves Rocher's Cuticle Exfoliating Correction.