Fashion Diaries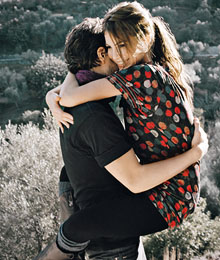 Image 1
My boyfriend surprised me with a picnic on top of this beautiful mountain with a stunning view. It was the perfect day to wear my Jackpot polk-a-dot top, black tights and leg warmers with all the walking we did.
Image 2
Escada Bright Red Boots Heightened by its extra-long leg line, these pointy toe stunners will take your outfit to the next level. www.escada.com
Image 3
I wanted to make a good first impression at my interview, so I decided to dress for success with this stylish Matinique grey blazer and matching striped scarf. I think they liked it because they hired me on the spot!
Image 4
Escada Nomade Bag (Tan) A fully functional large bag is always an essential when carrying many items. Large side pockets create convenient storage space for your phone or ipod.
Image 5
Thank God it's Friday! I've been waiting all week to watch Dirty Dancing, the musical. I think I'll wear my new Soaked in Luxury purple dress; it goes great with my eye-catching accessories.
Image 6
I finally have some time to myself! I just love sitting out by the window watching the seasons change from fall to winter. My army green Jackpot top and beige pants made me feel so comfortable and stylish.
Image 7
Brrr … what a cold day to take pictures of the Santa Claus Parade with my nephew. Luckily I had my new Cottonfield black leather zipper jacket to keep me warm.
Image 8
I don't feel like taking any fashion risks today, so maybe I should just stick to a classic colour like black. Oh! I think I'll wear my ruffled black dress from InWear to the charity gala tonight.
Image 9
Escada Nomade Bag (Mauve) Completed with large brass buckles, this bag is a versatile creation. It can be worn with jeans or dressed up with formal wear. www.escada.com
Image 10
I decided to go to an art exhibit today at the ROM. I wore my "artsy dress" as I call it. With all the embroidered detailing it can look formal or casual, depending on how I accessorize it. I knew it was the perfect dress for an art gallery.
Image 11
This dress is from Laura's. I picked it out last night just in time to meet my boyfriend's parents, but I realized I forgot to iron it! At the last minute, I brought it to the dry cleaners to get steamed. They did a great job and I looked fabulous in this ruby spaghetti strapped stunner.
Image 12
Badgley Mischka – Fleur De Nuit 3.4 oz The elegant casing is almost as beautiful as the fragrance it holds. Fleur De Nuit is an irresistible smell that will stay on all night long.
Image 13
Escada Cuff Swan Bracelet Small black and white diamonds accentuate the large gold cuff. www.escada.com
Image 14
I had the best sleep last night! I think it was because I was so comfortable in my new La Senza at Home collection – my cargo drawstring pants, lace camisole and chenille robe are so soft and easy to wear. They look so good on me I think I'll just stay in these all day.