Monte Carlo Inns Golf and Spa Tournament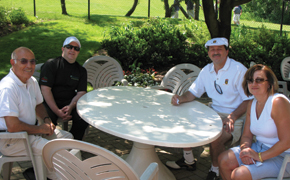 Following its 12-year trend, the Annual Monte Carlo Inns Golf and Spa Tournament was a huge success. Taking place at Hockley Valley Resort on June 8, 2011, the event raised an astonishing $22,000 for the Darling Homes for Kids – a palliative care hospice centre for children. Thanks to the generous hearts of suppliers, customers, and guests, Monte Carlo Inns is making a difference in the lives of many families.
www.darlinghomeforkids.ca, www.montecarloinns.com
Photos: Golf participants take a break from the tournament with Dominic Meffe, president of Monte Carlo Inns, and Carmela Meffe; Dr. Sheila Kemp speaks on behalf of an amazing foundation – The Darling Home for Kids.