Too Young to Die: The Tragedy of ALS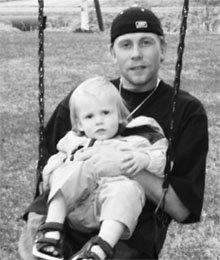 Two of Dr. Lorne Zinman's patients die of Amyotrophic Lateral Sclerosis (ALS) every week. This rapidly progressive neuromusucular disease that is commonly associated with baseball legend Lou Gehrig, and more recently with the loss of former Canadian Football League star Tony Proudfoot, has no known cause or cure in most cases. "It's a very complicated disease … it appears that an area of cells in the brain or spinal cord start to commit suicide, which then spreads to the rest of the body resulting in paralysis or death," says Dr. Zinman, director of Canada's largest ALS clinic at Sunnybrook Hospital. A fatal disease that affects between 2,500 to 3,000 Canadians, ALS is most common in individuals over the age of 55 and causes an array of symptoms from muscle weakness, cramping and twitching, to speech and respiratory problems.
Durwin John Cadeau's case was much different than most. The 26-year-old father suffered from a rare form called familial ALS, a highly hereditary strand that makes up only five to 10 per cent of all cases. Having witnessed several family members die from ALS, Cadeau grew up with the nerve-racking awareness that there was a 50 per cent chance his life would also be cut short. "We already knew what to expect having a mother, sister and two brothers pass away before Durwin, and a sister living with ALS at the same time. It was really tough," says Cadeau's mother, Freda Ritsma. After an incredible fight, Cadeau died on July 3, 2006. Ritsma wrote the memoir below from the perspective of her son after his death in hopes of coping and restoring his legacy. "I wanted something for others to know how much turmoil and emotional devastation it was for Durwin to know at 26 years old that you are going to die … I know Durwin felt assured that he was loved tremendously and his son [Noah] would be loved by all of us so very much," she says.
While Dr. Zinman struggles with the loss of his patients, he's optimistic that the disease will soon fall victim to advanced research and technology. "With more attention, more awareness, there's no question we're going to get there," says Dr. Zinman, adding that major advances are already being made in the detection of genetic abnormalities in familial cases, making it easier to figure out the pieces of the puzzle. As devastating as it is to have to be a daily bearer of bad news, Dr. Zinman is continuously touched by humanity. "It's really amazing to see how courageous these patients are. They're the bravest people that I've ever come into contact with and that's unbelievably inspiring." www.alsnetwork.ca
15 Minutes of Fame, by Freda Ritsma
I'm sure you've heard the saying everyone gets 15 minutes of fame, well here's mine. The only thing is that I'm already dead. My name is Durwin John Cadeau, I am 26 and I have ALS, Lou Gehrig's disease.
Maybe 15 minutes from now lots of people will have read this and my story will help make more people aware of ALS. I had a funny feeling from the first time I had a cramp in my leg that it was ALS. I remember telling my mom I had cramps and when I started limping on my right leg she would always say, "It can't be ALS, you're only 26."
You see ALS runs in my family: my grandma, one of my aunts and two of my uncles all died from ALS. I also have an aunt living with ALS right now. My mom thinks I'm too young and I guess she was praying that I would not have it. After a series of tests the doctor confirms our suspicions – I have ALS. I ask my mom to fly me to London for my second appointment. I want to go alone. I still want some independence. I love road trips; I will never forget the places I have been and the great people I've met and friends I have made in my travels.
It makes me sad that I will never have a relationship with my son. I never thought before how it must have been for my grandma to say goodbye to her 11 children. I now know. I am 26, I love to play basketball and watch UFC with my friend, my favourite TV show is The Sopranos. I love to listen to music, especially Jim Morrison who ironically died on the same day as me at the same age. "Riders of the storm, into this world we're thrown," seems to fit exactly where I am right now.
I have lost so much weight that my head appears big in comparison to the rest of my body. My fingers are permanently curled. I have no use of my legs or arms and they dangle limp when somebody tries to sit me up to reposition me or to straighten my bed. I can no longer cough on my own. My younger brother and sister are having a lot of trouble dealing with my illness. I ask my sister not to cry so much.
I am embarrassed to ask for help. I like to look and smell nice. I love Joop cologne. Every day I notice a change in my body and with this I rely more on my mom and a few close friends. I can no longer shave, bathe or toilet myself.
I am in Iroquois Falls Hospital now with pneumonia, I have always had asthma so I'm really having trouble breathing, and the nurses suction my lungs every few minutes. They try to be gentle, but even my bedsores are bothering me more. My feeding tube is giving me trouble and I am so hungry for my mom's lasagna and Caesar salad. I feel genuine compassion from a nurse. She treats me like somebody with thoughts and feelings and her kind words touch me. I know I am a tough patient sometimes and I tell her, 'I know if you would have known me before you would have liked me a lot  – I am a good guy.'
I tell my friends from church that God is waiting for me in heaven and explain how I dreamt that one of my uncles said to the other, 'you're going to be surprised who just came to heaven.' I know my mom will comfort my son as he grows up and let him know how he was loved. She will show him photos of me when I was little and then photos of him and me together. I know she will always be a part of his life. When he graduates from Grade 8 and wants to go on his first date she will give him a bottle of Joop cologne and tell him that was his daddy's favourite. She will save some of my old ball caps for him to wear and give him the cross that I wore around my neck.
I am in the final chapters of my "manual end-of-life issues." My doctor knows as well that I am there; he sits by my bedside and speaks to me sincerely and respectfully. He tells me of my choices of resuscitation. The hospital must know my decision in the event of respiratory failure. I have chosen a DNR (do not resuscitate) order to be noted on my charts. I know my pain will soon be gone and I will be reunited with my other family members.
My mom promises to tell my son how much I love him and that I will always watch over him.
It is July 3, 2006. Today everyone is still celebrating Canada Day while I quietly pass away in my sleep. It's been a mere six months since I have been diagnosed. It will be six months later when my mom receives my autopsy report, telling her that they found two significant findings about ALS because of my autopsy.
So here I am again one last road trip, but this time it is in the back of a hearse, going to the London Health Science Centre. I have agreed to donate my brain and spinal cord to research, hoping that it may help find a cure for ALS and save my family. I want a cure to be found, especially because my little boy may already be carrying this deadly gene with him as he plays carefree in the sand.
My doctor asks my brother and sister if they would like to be tested for ALS. After a lot of thought they decide not to. My sister says it would be like a black cloud over her head if she was to test positive, as there is nothing medically anyone can do. There is no cure and it will appear when you least expect it. My mom doesn't need to be tested. She now knows that she too has the familial ALS gene. I don't want my family to lose out on living because they are so worried of getting sick. I want my brother and sister to live and love life, and when they hear the song "Live Like You Were Dying" by Tim McGraw, I know they will stop and think of me.
For Ritsma's full story visit: www.alsont.ca/stories