City Girl, Tré Armstrong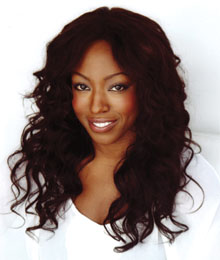 Tracey (Tré) Armstrong was born in Toronto and raised in Mississauga. On So You Think You Can Dance Canada, Armstrong is the judge who exudes rational cognition, which transfers into eloquent speech, and she is never more communicative than when she is on the dance floor choreographing for the hit show.
Five years ago, she was living in Toronto community housing, barely able to pay her rent. Now she is an internationally acclaimed dancer, actress and choreographer. She credits the development of her dancing gene to her mom, who she refers to as her "sexy mamacita."
"I feel sometimes when you pass a certain plateau, or even a notoriety, some people get protective of their past, but personally I am very open with it because I'm normal. I went through debt, homelessness; I've been through an abusive family and it just goes to show when you persevere and you fail a few times but you're passionate about your goals, you will succeed."
Armstrong's rise from obscurity started with a documentary called The Making of a Hip Hop Dancer. Her breakout moment occurred after seeking out hip hop queen Missy Elliot. The world-renowned artist immediately recognized the up-and-comer and gave her a place on an international tour.
I asked the divine dancer what happens when you meet a guy who can't dance.
"Good question," she says. "It depends where I am. If I'm in the club and he can't dance, it's great. I just get to smile and swing his hand. But if I'm judging and if you can't dance, unfortunately I have a job to do."
The audition tour for So You Think You Can Dance Canada is complete and the hit show will return to the air later this year for its fourth season. If you are interested in Armstrong or her philanthropic endeavours, visit www.tre-lystikz.com for more info. You can catch Armstrong in her latest movie "Sons 2 The Grave," which was filmed in Toronto and will be coming out soon.
A model Torontonian, Armstrong had a dream, she struggled, but she found a way to succeed through hardwork and perseverence.  www.trearmstrong.com/
Fun Facts about Tré:
• The male celebrity who really made her star struck – Magic Johnson.
• Favourite part about Italy – the men.
• Dancing … "Allows me to be free and express myself without speaking."
Tré's Favourite Things:
APPLE iPHONE – This busy girl needs to have fun while she's multi-tasking.
PILLOWS – The number-one home accessory has a big impact on her interior space.
FLOWER-SCENTED CANDLES – It's all about life's little moments: a hot bath, dim lighting, flower-scented candle – c'est magnifique.
CHANEL PYTHON CLUTCH – Sometimes you just have to splurge.
HOLT RENFREW – Tré's Favourite Place To Shop