N'B Tween Kidz: Love who you are … Love what you wear!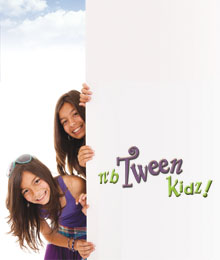 After 26 years of stylishly dressing kids of all ages in Toronto, Nancy and Cathy of Little Ones have opened a fashion destination in Vaughan that caters specifically to the tween market! Conveniently located on Rutherford Road just east of the Highway 400, N'B Tween Kidz features great fashion finds right here in Vaughan.
"We opened this store because we recognized the need for tweens to have their own space for shopping," says Cathy. "We know that the last thing today's preteen wants is to shop in kiddy stores surrounded by juvenile clothing."
"Having just opened the store in March, the response from moms and kids has been overwhelmingly positive," says Nancy. "Style is very important to today's fashion-savvy preteens. They are in-step with current fashion trends and colours and many moms feel that there is a real lack of great fashion for this age group. When they see the great clothes we have, they are pleasantly surprised with the selection N'B Tween has to offer!"
N'B Tween Kidz showcases casual and special occasion clothes for boys and girls ages 7 and up, as well as footwear in a stylish contemporary setting. As with our other store Little Ones, our forte is dressing kids for special occasions, including Grade 6 – 8 graduations, confirmations, Bar and Bat mitzvahs, weddings and any other parties.
Along with our great clothes, accessorizing is a big deal at N'B Tween Kidz. Finishing an outfit with a fun scarf, sparkly jewelry, a fabulous accessory for the hair and a great shoe is a must for any kid who loves fashion. At N'B Tween Kidz, the right accessories can transform a great outfit and make it amazing!
905.760.0422
3175 Rutherford Rd, Unit 71, Vaughan, Ont.