Let's do Lunch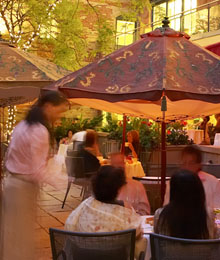 We've all had meals out that have involved upset stomachs, empty pockets or disappointing service. The unfortunate experience makes you wish you had just scrubbed your hands, sharpened your knives, threw on a floral apron and prepared the meal yourself! Turn to these reliable restaurants, which have garnered positive reviews all across the city.
1. Pangaea
www.pangaearestaurant.com | 416.920.2323
Mahogany glazed salmon with lime caramel butter and wild mushroom risotto are best-selling dishes at Pangaea. The Yorkville restaurant's simple approach to dining is evident in its earthy wooden furniture and floors and has been pleasing its sophisticated clientele since 1996.
2. Frank
www.ago.net/frank | 416.979.6688
Discuss surrealism and postmodernism over an iceberg wedge salad, grilled Ontario lamb burger and local strawberry basil crêpe at this Frank Gehry-designed (and aptly named) restaurant located in the Art Gallery of Ontario.
3. Centro
www.centro.ca | 416.483.2211
Luxurious and rich décor paired with a New American menu makes Centro anything but ordinary. The menu boasts an interesting mix of dim sum, sushi and tapas. A satisfying meal is guaranteed, with the expertise of executive chef Bruce Woods infused into every plate.
4. Far Niente
www.farnienterestaurant.com | 416.214.9922
Positive reviews from publications like The Toronto Star, The Globe and Mail and Toronto Life are proof of Far Niente's delicious dishes. Named one of the top 10 restaurants in the city by Toronto.com, visit Far Niente and see if it makes your list.
5. EPIC
www.epicrestaurant.ca | 416.860.6949
Chef Ryan Gustafson brings his passion for the sustainable food movement to Epic's unique menu. Located in the Fairmont Royal York, fresh herbs from the hotel's rooftop garden adorn dishes. Toasted crumpets and dainty cranberry scones can be enjoyed during afternoon tea, which is offered every Saturday and Sunday until Sept. 6, 2009.
6. Jamie Kennedy Wine Bar
www.jamiekennedy.ca | 416.362.1957
With three different restaurants across Toronto, Jamie Kennedy clearly needs no introduction. His name has become synonymous with quality and innovation. Grilled short ribs with carrot salad and a peameal bacon sandwich with sheep milk cheddar are just a few of the unique dishes that grace Jamie Kennedy Wine Bar's elaborate menu.
7. George
www.georgeonqueen.com | 416.863.6006
Although located in a former 1850's chocolate factory, George's executive chef Lorenzo Loseto does not cook with partially hydrogenated oils, trans fats or butter sauces. Vegetables are cultivated in their very own gardens (including the balcony located in the George courtyard) and served on the day they are picked.
8. Terroni
www.terroni.ca | 416.504.0320
The name is a nod to its founders' southern Italian heritage but its usual long and winding lineups can be attributed to its rustic, authentic food. Budget-conscious university students, downtown hipsters, quick-talking yuppies and wholesome suburban couples all unite at Terroni to indulge in its creations.
9. Trattoria Nervosa
www.eatnervosa.com | 416.961.4642
Admire the sometimes-intimidating Yorkville, from a laid-back and comfortable location at Trattoria Nervosa. The affordable prices, simple Italian food and relaxed environment will put you at ease and make you feel right at home.
10. Didier
www.restaurantdidier.com | 416.925.8588
A visit to Chef Didier Leroy's restaurant will inspire a visit to Paris. The classic French restaurant uses the best Canadian organic ingredients and oozes elegance. Top off your meal with crème brûlée, profiteroles or soufflé glacé (or treat yourself to all of them!) and spend the remainder of your evening dreaming of the Eiffel Tower while listening to the sweet melodies of Édith Piaf.
11. Il Bistro
www.ilbistro.net | 206.682.3049
Seattle, a coastal city often associated with the birthplace of Starbucks, frequent rainfall and grunge music, is also where Il Bistro calls home. If you're ever in the area, visit the Pike Place Market, where underneath you'll find Il Bistro. Its romantic feel makes this Italian fine dining establishment perfect for a date. Don't be surprised if you spot its chef scouring the local market for the freshest of ingredients.