Brix Napa Valley Grille & Wine Bar: Pairing Cuisine With Pleasure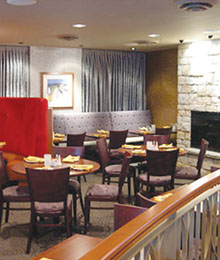 If the 19th century German chemist A.F.W. Brix was alive today, he'd surely be wining and dining at the restaurant bearing his name. Brix Napa Valley Grille & Wine Bar is named after the inventor's scale system, used to measure grape sugar content. It's a cleverly appropriate title for an establishment that provides an attentive pairing of food and wine.
Almost as old as the kitchen table itself, a healthy line of 30-plus years of experience speaks for an encounter at Brix. "My wife, Teresa, and I have built some great venues over the years, based on a mutual passion for great dining and entertainment," says owner and operations manager Mike Wilson. Together with partners Antonella Costanzo and executive chef Stephen Sandiford, the team knows just how to serve up a gastronomically pleasing time. "We've included an upscale supper club element, with ambience, quality food and entertainment, which ultimately caters to a refined corporate clientele," says Wilson.
Walking into Brix, guests are welcomed by a mildly lit, soothing dining room, complete with aromas of striking cuisine. "It's not an average, run-of-the-mill restaurant," Wilson admits. "Besides the fact that everything is made fresh, we have professional chefs that prepare everything from scratch, made-to-order." Must-have signature items include the restaurant's Beer Braised Short Ribs and Pan Roasted Snapper in a puttanesca sauce. The whole experience comes from the history of appreciating a good meal. "My mother was a great cook, and my wife is Italian, so homemade dishes are a must."
But what really makes Brix a Napa-style mecca is its selection of fairly priced wines. "We have an in-house sommelier that will pair the perfect wine with your dinner," Wilson says. "Our wine list was recently named one of the best in northern Toronto by Tony Aspler," he says about the renowned writer and guru, also known effectively as "The Wine Guy." Selections range from a refreshing Morgan Winery Sauvignon Blanc, to a full-bodied San Giorgio Amarone. And after a carefully tailored meal, guests are swayed to stay by sounds of live bands and visiting DJs. Much like Nava Restaurant & Bar, the establishment's sister venue – across the street in the East Beaver Creek restaurant complex – Brix is equipped with a stage area, dance floor, and state-of-the-art sound system.
The restaurant's ongoing success is ultimately a reflection of its owners. "It's a team effort that comes naturally to each of us," Wilson says. Moving forward, their restaurant continues to give its patrons a gratifying fill, while giving back to women's shelters and various charities. Whether visiting because of its gourmet cuisine or outstanding reputation, Brix deserves a raised glass and a toast of celebration.
www.brixnapavalleygrille.com
905.763.2749
230 Commerce Valley Dr. East, #1 Thornhill, ON