A Festive Cosy Home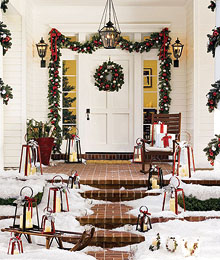 Giving your home a festive makeover is a great way to celebrate Christmas, and it's something I remember being exposed to, every year. Each December, my mother spends two straight days transforming her home into what she calls a cosy "winter wonderland." When she's done, the house gleams a welcoming Holiday vibe, warming the hearts of anyone who visits.
One of the main ingredients in setting that seasonal mood is ambience, and there's dozens of ways to achieve it. Thinking back to my house as a kid, I remember floral arrangements lining the main hallway. Flowers like poinsettias, holly,  mistletoe and the Christmas rose are ideal for your countertops, stair banister, fireplace, kitchen table, front door and porch. Whether you buy real or imitation flowers, they're a great way to get the spirit blooming.
When it comes to the bells, whistles and trinkets, stalking up on Christmas accessories is a must. Blankets or Holiday quilts are a great way to spread a variety of colours, and in country-style homes, they're commonly displayed on walls. As evening sets in, candles and lanterns are a great way to litter the house with that special cheer, and they don't have to be reserved for the 25th. Filling each room with one or two candles is something my mother does a few weeks before, carefully maintaining a budget.
Of course, one of the biggest and most important elements is cuisine. If you're going the décor route, things like chestnuts, gingerbread houses, and dried spiced oranges make great centrepieces. But don't get stuck displaying your culinary classics. Serving cinnamon spice tea, eggnog, and cappuccinos infused with Baileys Irish Cream are ideal for dinner parties. Accompany these beverages with hors d'oeuvres that include shrimp, scallops, chicken, spinach, and red and green peppers, served with fruitful chutneys.
Now don't just take my word for it. Designer Brian Gluckstein, Toronto's expert on interior design, gives his own view. "Five things that make a cosy home are the fireplace, dimmed lighting, lots of books, sofa throws, and fantastic bedding," he reveals. And if you choose to decorate lavishly, take Peter Rose's advice. The prominent architect who works closely with Vancouver's luxurious home developer, Keystone Projects, says, "You can't go wrong if you've got a home with good, rational circulation and flow, since it has a great effect on how people perceive spaces. It should feel genuinely comfortable, in equal measure – that's the guiding principal." With these few tips this Christmas, try a little bit of everything to make your home radiate with that Holiday charm, and don't be surprised if guests get cosy and stay a little longer.

www.glucksteindesign.com, www.keystoneprojects.com,
www.mmmeatshops.ca