Di Manno Ristorante: The City's Culinary Hot Spot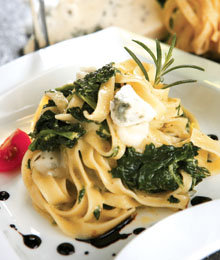 Finding a delicious meal in a friendly urban atmosphere has just become easier. If you're up for an experience that transcends the average date with your local trattoria, it's worth taking a trip uptown. This summer, the opening of Di Manno Ristorante will offer a savoury piece of Italy and a touch of Mediterranean fusion to patrons throughout the city. The upscale eatery is set to unleash some of the freshest and finest gourmet cuisine, combined with an unbeatably warm encounter.
Specializing in preparing heavenly meals is not something the establishment takes lightly. "It's more than just food; it's something social and comforting," says co-founder Nancy Di Manno. "Dining is a great way to unwind with a good glass of wine and get back to what life should really be all about – no stress, no hassle, just pure enjoyment." Since her family started to specialize in the bakery business 30 years ago, Nancy was no stranger to the gastronomical creations commonly found in her childhood kitchen. "The aroma always brings me back to when my mother was cooking, preparing and trying new things," she says. "I was always around fresh bread, homemade ciambelle, pizzas and pastries." Since then, the family's successful bakery expanded passionately over the years, leading to a dream for a beautiful restaurant. 
The precious memories of the Di Manno household have become the cornerstone of the new restaurant's philosophy. "The happiest times at home always happened in the kitchen," Nancy says. Unlike any other establishment in the area, Di Manno Ristorante prides itself on a menu using only fresh herbs and ingredients. An open-concept kitchen creates carefully selected southern Italian dishes, such as tuna carpaccio and squid ink risotto, but is still nimble enough to serve top-flight Provimi veal chop and an array of savoury fish entrees that beg your return. Topping off every meal wouldn't be possible without the perfect wine pairing. Di Manno's carefully selected wine list features new and old-world selections, including vintages from Italy, France, Chile, Australia, California, and Ontario.
The Di Manno experience offers the extra mile in personalized service. "I want our customers to connect with the place and feel like they've been taken care of on a different level," Nancy says. "As long as our guests are satisfied, it doesn't matter what we have to do to please them." True to her word, Nancy prefers the charming touch of getting to know her guests, taking note of their tastes and preferences. "I don't want patrons to feel like they're here just for dinner. I want them to walk in the door, get to know us, and ultimately feel that same level of bliss we encounter around the table."
Harnessing that feeling won't be difficult in Di Manno's eclectically contemporary dining room, flowing with shades of black, white, and grey. The triangular-shaped space beams a sophisticated, sleek feeling, inviting guests to unwind in an intimately posh atmosphere. For business luncheons or corporate meetings, an etched niche provides seating for eight to 10 people, offering an enclosed dining affair. Of course, a tempting attraction remains the restaurant's place-to-be-seen patio, already causing quite a stir this summer. A European feel complements the outdoor lounge area, ideal for a glass of Pinot Grigio and petals of fritteline di fior di zucchine – lightly battered zucchini flowers.
One of the only genuinely Italian venues in the area, Di Manno is proving to be a source of celebration for local residents. Equipped to host full-fledged private functions, the restaurant is a great addition to the community, offering an upscale environment with a convenient, nearby locale. Each initiative is part of the realization of a dream, centered on the centuries-old tradition of food. Together with its supporting bakeries, Di Manno Ristorante is sure to give loyal followers their fill of gourmet cuisine for decades to come – an appetizingly passionate tradition.
www.dimannoristorante.com
905.707.588
11 Disera Drive, Unit 100
Thornhill, ON