N'b Tween Kidz is a world of luxury for your tween. This stylish shop that's geared to girls and boys size seven to junior adult, is quickly becoming the next fashion-forward boutique for modern families.
The unique concept of N'b Tween Kidz has proven successful, with overwhelmingly positive feedback from parents who have trouble getting their kids into stores that feature babyish clothes. The sophisticated décor creates a comfortable and contemporary atmosphere. From crystal chandeliers that illuminate elegant dresses, featuring top lines like Sara Sara, Un Deux Trois, Jessica McClintock and David Charles, to the lavish plum ottoman that provides boys with a relaxing spot to lounge on while choosing their next stylish suit from brands that include Ike Behar, DKNY, Enrico Spago, Michael Kors and Talia. Kids love the freedom of shopping for back-to-school outfits, from trendy fashion houses all Read more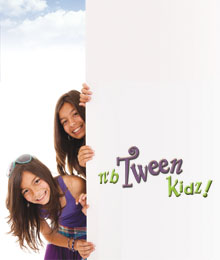 After 26 years of stylishly dressing kids of all ages in Toronto, Nancy and Cathy of Little Ones have opened a fashion destination in Vaughan that caters specifically to the tween market! Conveniently located on Rutherford Road just east of the Highway 400, N'B Tween Kidz features great fashion finds right here in Vaughan.
"We opened this store because we recognized the need for tweens to have their own space for shopping," says Cathy. "We know that the last thing today's preteen wants is to shop in kiddy stores surrounded by juvenile clothing."
"Having just opened the store in March, the response from moms and kids has been overwhelmingly positive," says Nancy. "Style is very important to today's fashion-savvy preteens. They are in-step with current fashion trends and colours and many moms Read more