Canadian Decisions: An Interview with Peter Mansbridge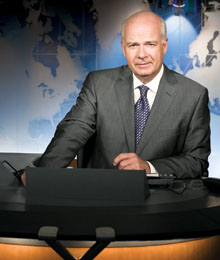 Climate change is a force to reckon with, reveals CBC veteran Peter Mansbridge.
It's one of those habitual things that most of us do every night after the dishes are done and the kids are in bed: flip the channel to catch Peter Mansbridge on The National. If you are the news-savvy type, you've probably noticed that the CBC has increased its coverage of climate change. The state of the Earth has taken centre stage in what matters most to Canadians, and it's not going to pass, explains Mansbridge, chief correspondent of CBC News and anchor for The National since 1988.
"Most Canadians are very serious about this and have strong opinions," says Mansbridge, one of Canada's most trusted media personalities.
"It's not a flavour-of-the-month thing," he says.
Mansbridge has explored the issue of climate change across Canada and the world on CBC assignments. "I have seen the changes. I know it's different," he says matter-of-factly.
''I think we're at a major decision point, not only as a country, but as a planet … in terms of how we protect our environment."
The CBC makes efforts to reduce emissions wherever possible, while Mansbridge embraces eco-friendly changes to his lifestyle. But, he admits that there are a few things he can work on.
CL: Is the increasing attention on global warming justified or overplayed?
PM: There is obviously a variety of opinions on the causes of climate change. I don't think any serious person disagrees with the fact that changes are going on. The controversy exists in why it is happening. This allows us, as a responsible media, to dwell on that debate, trying to inform Canadians as well as we can about the most important and relevant issues.
CL: Explain the efforts of the CBC when it comes to covering climate change.
PM: We have spent a lot of time on this story, mostly in the last decade and especially in the last two years, with frequent trips to the Arctic. I have seen the changes … We've gone from a period of ice-locked water waves throughout the high Arctic to now, when, in the summer, they are totally opened … That's a significant change … It's not just in the ice patterns. I've been to the Northwest Passage … to witness the various aspects of change in ice, as well as in wildlife and human life: how different communities try to deal with the changes they are confronted with. That's the reality of climate change in its most visible form in Canada."
CL: What are your thoughts on pesticide use, products containing chemicals and SUVs?
PM: I think we all have to make personal choices on the way we live and the impact that kind of living has on the world. I live my life the way I think it's important to do so. Am I perfect? I'm sure most environmentalists would agree that I'm not. Have I made some sacrifices and changed my lifestyle? Sure I have. I think most Canadians have.
CL: You say that ties are essential in your wardrobe, and you make a point of donating them to charities. Have you ever thought about wearing a biodegradable tie?
PM: I haven't – but I guess I'd better start.