Gold. Glamourous. Chic. Cheap? — Roberto Cavalli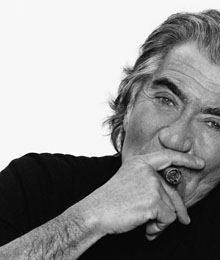 Famous for dressing celebrities such as Jennifer Lopez, Gwyneth Paltrow and Lenny Kravitz, Roberto Cavalli has teamed up with H&M so he can be famous for dressing women and men everywhere!
When you think of Roberto Cavalli you are reminded of his continuous efforts to incorporate animal print or metallic in almost every one of his pieces. Cavalli's limited collection for H&M, featured his favourite pieces throughout the years – and that means a whole lot of gold, zebra and leopard! The collection made its debut Nov. 8, 2007.
In his first collection for H&M, Cavalli created a stunning collection using only three colours: white, black and gold. Not unusual for Cavalli.
Also common for Cavalli is his ability to create the chicest and sexiest gowns. For his collection with H&M, Cavalli created a number of silk gowns and a noteworthy sequin mini dress. Modelled by Jessica Stam and Erin Wasson in the campaign for the Roberto Cavalli at H&M collection, these dresses are sure to be top sellers.
Another stand-out piece is his zebra print trench coat. Worn alone, this trench could easily be a scene stealer. Cavalli designed it after the trench he made exclusively for Halle Berry a few years ago.
For the men, Cavalli fine-tailored key pieces that can be worn together for an evening or office look, or worn as separates for a more casual look.
As if that wasn't enough, Cavalli also added an accessories line to the collection with his signature serpent moulded into classic Cavalli jewelry. As well, affordably priced leather boots, animal print shoes and gold high heels are available to complete your look.
The collection will be available in 200 H&M stores worldwide for a limited time only. www.hm.com